The Ultimate Guide to Accounts Payable Metrics:
Your accounts payable metrics and AP department can be a frequently overlooked part of your organization. Because it's a source of money going out – instead of coming in – it's often unpleasant to think about. But since you have to pay your bills each month, AP becomes a 'necessary evil.'
Breaking out of this kind of thinking and paying close attention to your AP processes can transform the way you look at accounts payable forever. By examining your accounts payable metrics, you can define the effectiveness of your AP department, identifying ways to effect positive changes through automation.
What Are Accounts Payable Metrics?
Accounts payable metrics determine how effectively and efficiently AP is meeting specific goals and objectives. You can then use these quantitative values to improve overall employee work quality, drive individual employee performance, and lower AP-associated costs.
By recognizing which payment metrics are most important (your key performance indicators, or KPIs), you can streamline processes and realize concrete AP benefits, including:
Increased transparency into your accounts payable processes, making it clear where time, resources, and assets are being needlessly wasted
Reduced AP costs, by eliminating duplicate invoice payments in addition to reducing duplicate work activities
The ability to accurately measure department and employee performance, and track progress towards measurable accounts payable performance goals
The development of a proactive work atmosphere, in which AP staff are increasingly accountable, and automation is seen as a benefit rather than a threat
Classifying Accounts Payable Metrics
Accounts Payable metrics should be separated into different categories since each classification requires a different approach. The three main groups are:
Accounts payable operational metrics. These involve your department, employees, and processes, all of which are fully under your control.
Accounts payable financial metrics. These involve your actual transactions within the department, including all payments and savings, discounts, fees, and errors.
Accounts payable supplier metrics. These involve your suppliers and vendors, how they fit into your AP process, and how you can integrate their systems into your own.
Setting KPIs for Accounts Payable
Specifying payment metrics to be tracked and managed for maximum benefit will help you identify issues that slow down AP function. Once you know what's slowing down business, you can adjust your processes to improve cash flow and operating costs.
Discounts
Track what discounts are offered for on-time payment as well as early pay; which vendor offers the discount; and how many discounts your organization captures per reporting period. Doing so will reveal where you can achieve savings and reduce your overall AP costs. Even a few percentage points chopped off an invoice for prompt payment can amount to significant cost savings over the course of a year. You can increase this number exponentially through negotiations with other vendors in the supply chain.
Supplier Relationship Satisfaction
Count the number of supplier-side inquiries, discrepancies, and disputes, as well as how they are settled. This information highlights any ongoing issues with a particular type of invoice or a specific supplier. Automation of supplier feedback can not only help increase the amount of vendor-side data you collect but also streamline future orders and foster swift resolution of any supplier-relationship issues.
Team Efficiencies Tracking
Track your AP processes on a per employee basis to reveal which team members use their time efficiently and which ones have the most difficulty completing assigned accounts payable invoices per month. This information highlights which employees could benefit from retraining or access to automation tools. It can also signal poor invoice quality, inefficient work processes, or even a potentially overstaffed AP department.
Payment Cycle Times
Comparing vendor cycle times and matching them to accounts receivable cycles identify opportunities to negotiate payment dates that will streamline both your workflow and cashflow. Having all accounts – payable and receivable – come due at the first of the month can be a recipe for disaster if the former outpaces the latter or an issue with receivables surfaces.
Duplicate Invoice Payments
According to data from the AP Association, about one-third of all AP professionals have erroneously processed and paid duplicate invoices
Measure the rate of duplicate payments, and calculate them as a percentage of your total adjustments each month. You'll be able to easily see if a vendor is double billing or if invoices are being manipulated to perpetrate fraud – inside or outside of your company. In many cases, automation can instantly distinguish duplicates even if invoice numbers are different, kicking them back for manual review.
Invoice Exceptions
Count invoice exceptions and how they affect workflows. Typically, an error or discrepancy in an invoice – particularly relating to a work order, packing slip, or amount due – can bring the AP process to a halt. Invoice exceptions take valuable employee time and resources to resolve accurately. Automating your AP processes can help speed accurate invoices through the system, while simultaneously routing questionable invoices to the responsible person for manual review if needed.
Accounts Payable Expenses
These are some of the most important metrics, as they provide a clear path to goal-setting and reducing costs.
Measure overall accounts payable related expenses, and calculate them as a percentage of your total monthly revenue. This tells you your overall cost of running your AP department in relation to your company's bottom line.
Measure the expenses associated with each vendor individually and compare them to the revenues directly affected by that vendor. This can help you determine when to start shopping around. For example, is a vendor's cost too high compared to its benefit when viewed along with other vendor/cost relationships? If so, it might be time to consider cutting ties.
Measure the cost per invoice processed and set goals to lower those average costs over time. Per invoice costs can vary by industry, according to an accounts payable benchmark 2018 survey. If yours are in the $8-$10 range or above, however, there is almost certainly room for improvement. The median hovers around $5, with top-performing companies in industries such as transportation, successfully dropping the price to $2 per invoice processed.
The Benefits of Tracking Accounts Payable with Automation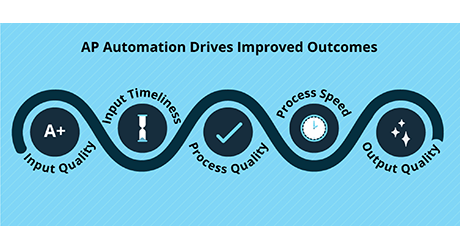 Automating your AP department not only allows you to track your KPIs more closely but also to use your metrics to effect positive change within your organization. Automation capabilities can lead to decreased processing time, improved accuracy, and significantly reduced AP costs.
Stampli offers integrations with common enterprise resource management (ERP) and accounting systems to automate and improve the accounts payable process, in addition to improved account payable collaboration between vendors, approvers, and other departments involved with invoice verification.
A key benefit of AP automation and Stampli is the ability to track these metrics (e.g., approval times, process bottlenecks, coding, manual data entry, etc) compared to a manual approval process which makes it very difficult – if not downright impossible – to gather these specific types of insights.
Organizations that adopt this type of improved workflow can reduce invoice approval times by as much as 80%, streamlining the AP process while strengthening relationships with vendors and other suppliers.
AP automation can improve your accounts payable operational metrics across the board with the correct implementation. Areas that can benefit the most from AP automation include:
Input quality. When invoices can be scanned, and key data points picked out, they can be instantly matched to similarly scanned packing slip work orders. This both speeds up and improves the accuracy of the verification process. Amounts and dates, in particular, will be less likely to suffer from inaccurate manual entry. Any discrepancies can be quickly recognized, and the invoice routed back for manual review.
Input timeliness. Another benefit of automated invoice receipt and filing is the speed with which incoming invoices are retrieved and input into the system. Automation also allows vendors to receive notification of their invoice's receipt, building trust and appreciation.
Process quality. Seamless collaboration is encouraged with automation, facilitating automatic approval from appropriate parties. This carries with it the added benefit of improved invoice management processing time and increased accuracy while automatically capturing any available discounts. Common stalls in the process are minimized, with fewer errors made.
Process speed. Automation creates speed streamlining processes for timely payments – even during peak days of the month. Adjacent processes such as accounting or tax filings related to accounts payable can also be facilitated and made easier.
Output quality. Automation can help you monitor KPIs in real-time, allowing you to identify problematic trends and address emergent situations before they become a source of tension between you and a vendor. Additionally, automation allows you to decrease response times and consistently send any unresolved issues to an in-house expert for immediate attention.
By automating your AP department and reviewing your accounts payable metrics regularly, you can significantly limit errors, overpayments, duplicate payments, and disputes with vendors. Automation can also improve your employee morale, increase efficiency and productivity, enhance accountability, and empower AP employees to improve customer service.
Stampli provides the perfect modernized environment for your accounts payable department, streamlining workflows, and decreasing the overall costs of AP. When you stop looking at accounts payable as the funnel through which funds exit your company, and begin viewing it as a prime area in which to increase savings, your entire business model can begin to transform for the better.